Cincinnati Bengals rookie QB Joe Burrow took his first L in the NFL in week 1 against the Chargers. Although Joe looked like a savvy veteran when it was time to come back and get the W.
The 2020 top overall draft pick refused to settle for any excuses after a late penalty and a missed 31-yard field goal prevented Burrow from becoming the first QB taken No. 1 overall to win in Week 1 of his rookie year since David Carr accomplished the feat in 2002.
"At the end of the day, I made too many mistakes for us to win the game and we didn't make enough plays," Burrow said.
His girlfriend was also at the stadium, albeit in a cardboard cutout version. Burrow's girlfriend Olivia showed off her cardboard face on Instagram before the game. Her cutout was seated next to Joe's parents:
She also wished her NFL boyfriend good luck: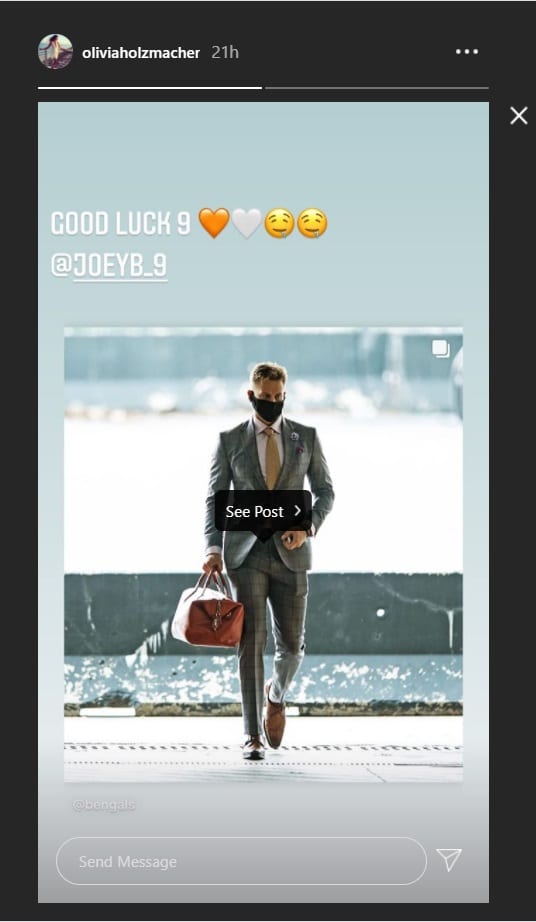 Burrow wasn't pleased with how his first NFL start turned out, but you have to be pleased if you're a Bengals fan.
And his GF totally gets Social Media, which is always a plus. Joe and Olivia are here to stay!
Check out more of the happy couple below: