The Damian Lillard vs. Paul George and Patrick Beverley beef made its way from the basketball court to social media shortly after Lillard missed some free throws to lose to the Clippers.
Following the game, Beverley waved bye-bye to Lillard in the same fashion that he had waved bye-bye to Paul George and Oklahoma City after hitting a three-pointer in Game 6 of a first-round series win over the Thunder in 2019.
After Saturday's game, Lillard was asked about the reaction George and Beverley had following the game. Lillard responded by sending out a reminder:
That led to George and Beverley responding in the comments section of that post.
Beverley (patbev21) commented: "Cancun on 3 😂😂😂"
Paul George commented: "And you getting sent home this year 🤣 respect ✊🏾"
Lillard then clapped back to George, commenting: "keep switching teams … running from the grind . you boys is chumps"
Out of nowhere Ayesha Curry decided to weigh in.
Check out her tweet below: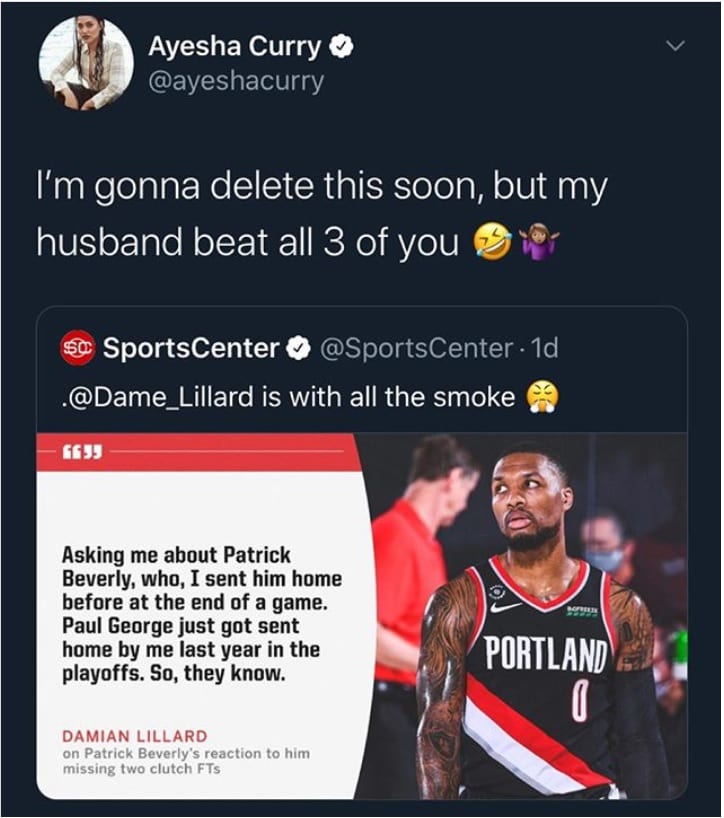 Sure enough she deleted her tweet.
Ayesha must be missing all the action with Steph and the Warriors waiting for next season to begin.