Welcome to the internet. Trevor Lawrence got engaged to his high school sweetheart over the weekend.
What would normally be a joyous and congratulatory time, instead was used to take shots at the all american quarterback.
Former Richmond baseball player and part-time sportscaster Matt Trent decided to troll Trevor with a tweet, calling Joe Burrow his Daddy:
Lawrence fired back, but then quickly deleted his response. Luckily we found a screenshot: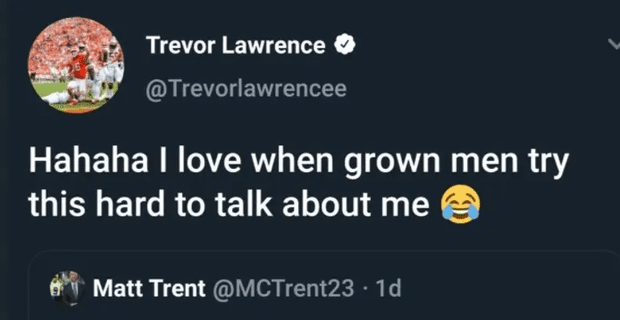 Lawrence has led the Tigers to a 29-1 record his first two years in Clemson. He's also going to be at the top of next year's NFL Draft, so Joe Burrow "Daddy" comments aren't going to bother him a bit.
Congratulations are in order for Trevor and his new fiance Marissa. You can see more of the happy couple below: